August 22, 2012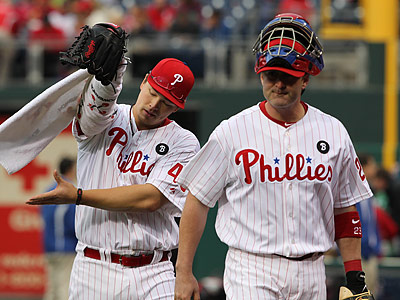 philly.com
It was a frustrating loss for Cliff Lee and the Phillies, Tuesday night. Tonight, Vance Worley will look to shed his struggles and help the Phillies get over the loss with a win.
Cincinnati Reds (75-49, 34-27 Road) at Philadelphia Phillies (57-66, 27-34 Home)
7:05 PM ET at Citizens Bank Park in Philadelphia, PA
Probable Starters
CIN:
RHP Bronson Arroyo (9-7, 3.96 ERA)
PHI:
RHP Vance Worley (6-8, 4.11 ERA)
Lineups
Reds
Phillies
1. SS Zack Cozart 1. SS Jimmy Rollins
2. CF Drew Stubbs 2. LF Juan Pierre
3. 2B Brandon Phillips 3. 2B Chase Utley
4. LF Ryan Ludwick 4. 1B Ryan Howard
5. RF Jay Bruce 5. CF John Mayberry Jr.
6. 3B Scott Rolen 6. RF Dominic Brown
7. 1B Todd Frazier 7. 3B Placido Polanco
8. C Ryan Hanigan 8. C Brian Schneider
9. P Bronson Arroyo 9. P Vance Worley
Although he insists that it is not the problem for his recent struggles, Vance Worley continues to pitch with bone chips in his elbow. Over his last three starts, Worley is 0-2 with a 7.90 ERA. Again, his elbow may not be the problem, but there is no denying that something is wrong.
Bronson Arroyo has never had much success against the Phillies. Arroyo is 1-7 with a 7.28 ERA in his career against Philadelphia.
Kevin Frandsen had a great game both offensively and defensively on Tuesday night. But Placido Polanco will be getting the start at third base tonight. Polanco made a pinch hit appearance in Tuesday night's game, reaching first on an infield single.
Brian Schneider will be the starting catcher tonight. Schneider has had success catching for Worley, so it makes sense that Charlie Manuel put him in the lineup.
It's 90's retro night at the ballpark tonight. Wait, the 90's is considered retro now? I'm getting old.