August 22, 2012
Box Score (Courtesy of ESPN.com)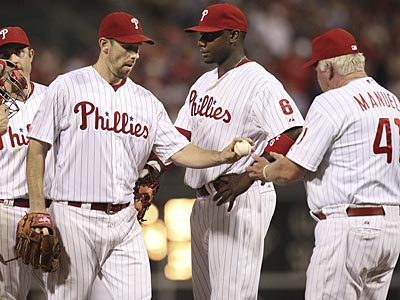 philly.com
He slammed his glove on the ground, then held his head in frustration as he walked down the dugout. Cliff Lee had every reason to be mad.
Lee has yet to earn a win at Citizens Bank Park this season and after 6 2/3 innings, he knew he would not get it on Tuesday night.
The shame of it though, is that Lee had yet another solid outing, striking out nine batters. He even got out of a bases loaded jam in the sixth inning with no outs.
However, bad luck plagued Lee once again, like it has for most of his 2012 season.
In the seventh inning, the Reds scored three runs (two earned) off of an error by Ryan Howard, a sacrifice fly by Zack Cozart and an RBI single by Drew Stubbs.
The Reds jumped out to a 3-1 lead, ending Cliff Lee's night in the process.
B.J. Rosenberg completed the inning by striking out Ryan Ludwick.
The Phillies rallied back in the bottom half of the inning to tie the game at three. Kevin Frandsen, who went 3-for-4 on Tuesday night, singled to left to get on base.
Then Erik Kratz doubled to move Frandsen up to third.
Red's starter Homer Bailey was pulled from the game after Kratz's double, with Sean Marshall pitching in relief.
Marshall walked pinch-hitter Ty Wigginton to load the bases with one outs. Then Jimmy Rollins hit a double into left to score Frandsen and Kratz.
Antonio Bastardo pitched in the eighth and gave up a solo home run to Todd Frazier. It was the only hit that Bastardo allowed in the inning, but it was enough to break the tie and put the Reds back up 4-3.
However, Kevin Frandsen would not let Cincinnati's lead last long.
With two outs and Dominic Brown on first from a single, Frandsen hit a triple off of Jonathan Broxton. Brown scored and the game was tied up at four.
Jonathan Papelbon was put in to pitch the ninth, but he has struggled in tie games in the past. He did again.
Zack Cozart hit a solo home run off of Papelbon (L, 3-5) to put the Reds up 5-4.
The Phillies had one last shot in the ninth, but Arlodis Chapman struck out two in his 30th save of the year, with a fastball maxing out at 102 mph.
The Reds won 5-4 and Jonathan Broxton earned his second win of the year in an inning of work.
The next game will be on Wednesday night. Vance Worley (6-8, 4.11 ERA) will oppose the Reds' Bronson Arroyo (9-7, 3.96 ERA) in the third of a four game series