August 21, 2012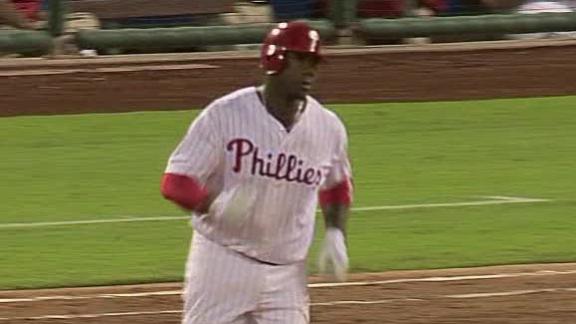 espn.com
The Phillies scored 12 runs in their return home to Citizens Bank Park on Monday night. They will look to keep the hitting going in the second game of a four game series with Cincinnati.
Cincinnati Reds (74-49, 33-27 Road) at Philadelphia Phillies (57-65, 27-33 Home)
7:05 PM ET at Citizens Bank Park in Philadelphia, PA
Probable Starters
CIN:
RHP Homer Bailey (10-8, 4.16 ERA)
PHI:
LHP Cliff Lee (2-7, 3.83 ERA)
Lineups
Reds
Phillies
1. SS Zack Cozart 1. SS Jimmy Rollins
2. CF Drew Stubbs 2. LF Juan Pierre
3. 2B Brandon Phillips 3. 2B Chase Utley
4. LF Ryan Ludwick 4. 1B Ryan Howard
5. RF Jay Bruce 5. CF John Mayberry Jr.
6. 3B Scott Rolen 6. RF Dominic Brown
7. 1B Todd Frazier 7. 3B Kevin Frandsen
8. C Ryan Hanigan 8. C Erik Kratz
9. P Homer Bailey 9. P Cliff Lee
Cliff Lee struck out 12 batters in his last start against the Brewers. After he was pulled in the seventh with two out, the bullpen blew the Phils' one-run lead. The Phillies lost and Lee was kept from his third win of the season. Maybe things will be different for Lee tonight.
The 3, 4, 5 and 6 hitters (Utley, Howard, Mayberry and Brown) have been performing well at the plate lately. It showed in last night's 12-5 win.
The Phillies are tied with the Mets for third in the NL East. They will have a chance to climb in the standings with a win tonight.