August 2, 2012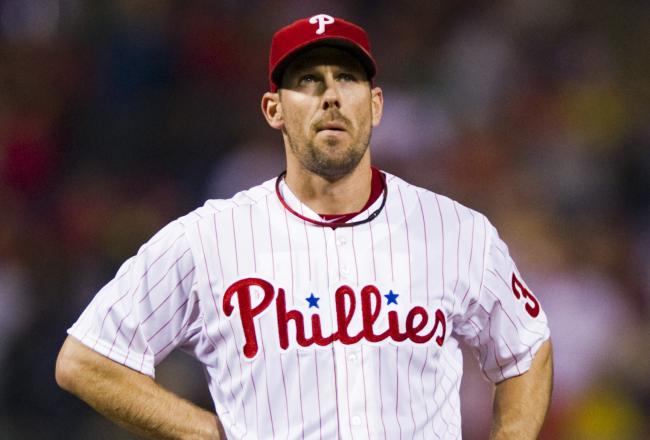 bleacherreport.com
Cliff Lee was another player heavily involved in trade rumors along with Hunter Pence and Shane Victorino.
After the trade deadline past, both Victorino and Pence were traded, but Lee still remained on the team.
Lee was scheduled to start that night and threw seven shutout innings. A fantastic outing in what has been a rough season for Lee, now 2-6 this season, and the Phillies in general.
However, it appears that Cliff Lee is not in the clear just yet.
After the trade deadline closed, it was rumored that Lee along with fellow starting pitcher Joe Blanton would be placed on trade waivers.
Ben Nicholson-Smith of MLBTradeRumors.com
reports that those rumors are in fact true.
Smith reports that Lee has been placed on waivers, which was first revealed by
Yahoo Sports' Jeff Passan on Twitter.
However, this does not mean that Cliff Lee's second tenure as a Phillie is done just yet.
Smith writes that "teams routinely place high-profile players on waivers in August to determine other teams' interest."
Smith continues to write that Lee most likely "hit the waiver wire yesterday, when the August waiver period opened," but that "Executives expect the left-hander to clear waivers Friday afternoon, Passan reports."
Lee, 33, will make $21.5 million this season and $25 million over the next two seasons with an option for 2016.
Original reports
stated that Lee would not be traded either at the deadline or from waivers, and I personally believe that this is still the case.
After all, does anyone really want to see a rotation of Halladay, Lee and Hamels be broken up so soon? Plus, the Phillies already traded Lee away once, and he still chose to sign with them after that when the time came for him to choose.
Also, the Phillies have the ability to pull him off waivers at any time. So most likely, Lee will still be a Phillie for at least the rest of this season.
However, how long Lee remains with the Phillies past this season probably depends on how they finish.
If they do not finish strong, then GM Ruben Amaro Jr. might be looking to trade Lee at the winter meetings.
But, if they finish the season strong and look like they will be able to compete for the playoffs in 2013, then Cliff Lee could be sticking around for a little while longer.
Again, I personally hope it is the latter. They already traded him once, don't do it to him again.