July 23, 2013
By Nick Tricome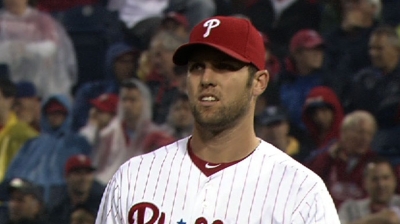 Reliever Joe Savery is heading to the 15-day disabled list with
stiffness in his left elbow
.
The Phillies recalled Raul Valdes from Triple-A Lehigh Valley to fill Savery's spot in the bullpen.
Savery, a lefthanded pitcher, pitched 13 innings in 10 games this season. He has a 2-0 record, with a 1.38 ERA and a 1.31 WHIP.
Savery's last appearance was on July 13, in the second game of a doubleheader against the Chicago White Sox.
He walked two batters, but managed a scoreless 13th inning. Michael Young hit a walk-off single in the bottom half of the 13th to give the Phillies a
2-1 win
.
Valdes, also a left-handed pitcher, has pitched 20 innings across 10 games in 2013. He is 1-0 with a 7.65 ERA and a 1.55 WHIP.
(
Image from MLB.com
)