April 16, 2014
By Steve Bohnel
@SteveSportsGuy1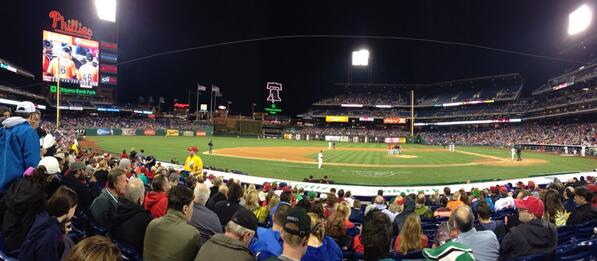 Braves shortstop Andrelton Simmons had just smacked a hanging slider from Phils reliever B.J. Rosenberg into the left field bleachers at Citizens Bank Park. Droves of fans departed from their seats with the score now 5-1 in favor of Atlanta in the eighth inning.
Not that it was exactly a sell-out crowd in the first place. The attendance at the Bank on April 14 was 26,516—far short of the full capacity of nearly 44,000.
This isn't a new thing that has been happening just this year. Ever since 2010, when season attendance peaked at an all-time high at
3,777,322
, the Phillies have seen a decline in the category, dropping down to 3,012,403 in 2013.
Citizens Bank Park was
sold out for 257 consecutive games
from July 7, 2009 through August 6, 2012, giving the Phillies the longest consecutive sellout streak in the National League and the third longest in the Majors. The club averaged over 45,000 per game in attendance, making even standing room tickets a hot commodity. But that isn't the case now.
In an interview with the "Best Damn Sports Show Period" back in August 2008, when the team was on its way to a Word Series title, shortstop Jimmy Rollins talked about what it's like to play in Philadelphia.
"There are times," Rollins said. "I might catch some flak for saying this, but, you know, they're front-runners. When you're doing good, they're on your side. When you're doing bad, they're completely against you."
"For example, Ryan [Howard] is from St. Louis and St. Louis, it seems like they support their team," he added. "They're out there and encouraging. In Philly, can't be no punk."
Are Phillies fans "front-runners," like Jimmy Rollins said back then? There might be an argument. He's right about the last part though. "Can't be no punk." Can't hide it either. When a team or a player is doing bad, the Philadelphia fan-base will be quick to let them know.

When things aren't going well, my dad always used the "beat the traffic" excuse. But the special thing about baseball is that there is no clock. Until that final out is made, anything can happen.
People who left after that Simmons homer might have regretted that decision for a bit, even if an eighth inning comeback—topped off by a three-run shot from Domonic Brown that gave the Phils a 6-5 lead-- was ultimately for not, due to Jake Diekman failing to find the strike zone in the ninth inning, and ultimately blowing the game via a Dan Uggla grand slam.
At the game Monday night, after more fans left following Uggla's shot, a fan told me "Look at the people leaving. You know? They're all season ticket holders."
"The ones staying just bought tickets for today," the fan said.
While that may be an exaggeration, I can't help but feel for the betrayal he must feel when seeing people filing out of the stadium with baseball left to play.
This year's Phillies have been deemed by many as too old, but the problems may not necessarily lie with age, but rather inexperience in the bullpen.
And after a couple years of dealing with a struggling bullpen, fans can just get tired of bothering with it.
Say what you want about Philadelphia fans. People will hate them, but their passion and knowledge of the city's teams can't be denied
It has to be remembered though, that one of the most important parts of being a fan is sticking through the thick and the thin.
Admittedly, with a team that has only two championships in 131 years-- that is also coming off its best five years in franchise history--, that can be tough.