February 13, 2014
By Steve Bohnel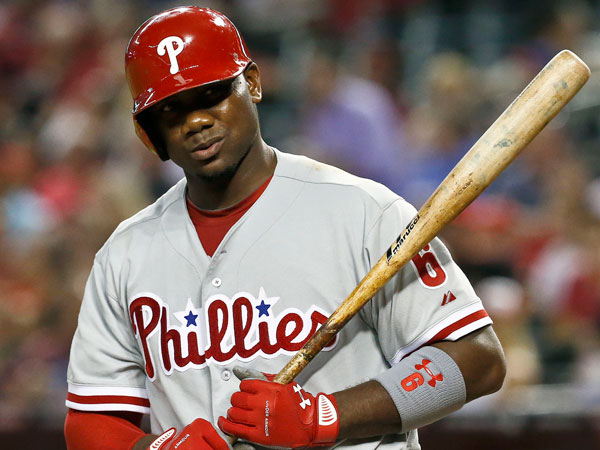 Spring Training is just around the corner,with the Phillies' pitchers and catchers already reporting.
One of the biggest problems for Philadelphia last season, however, was probably their offense. Finishing in the bottom half of the Major Leagues in batting average (21st at .248), runs (26th at 610), and on-base percentage (24th at .306). The Phillies have some work to do once April rolls around.
The player with the most to prove might be veteran shortstop Jimmy Rollins,who is in the last year of his contract with a vesting option for 2015 given he meets a 434 plate appearance minimum. He is owed $11 million in 2014, but he only batted .252 last season with 6 HR and 39 RBIs. Rollins,who used to be the catalyst for this team a couple years back, constantly found himself shifted around the lineup due to his lack of production and Ben Revere settling into the lead-off role.
Then again, the person probably facing the most pressure is first baseman Ryan Howard. Last year he batted .266 with 11 HR and 43 RBIs. in 80 games. His season ended after suffering a knee injury that required surgery in early July, but given his $25 million salary, he needs to bounce back.
On the flipside, Ben Revere looks to be promising. He played in limited games last year due to a broken foot, but his final stats included a .305 batting average. While he lacks power, his speed is deadly if he gets on base. He swiped 22 bags in 88 games last year.
Chase Utley is nearing the end of the road, but he hopefully has a little left in the tank. His work ethic speaks for itself. He views baseball as serious business.
Carlos Ruiz is getting $8.5 million in 2014. His final stats in 2013 included a .268 average in 92 games, but he was out for the first 25 games due to a suspension for violating the MLB drug policy.
The outfield is the biggest question mark. Cody Asche looks promising if he stays at third base and Domonic Brown did show flashes of greatness, especially in that stretch from May-June where he smacked 18. But is Marlon Byrd worth the $8 million per year signing? The jury is still out. John Mayberry Jr. hit .227 but did show some pop with 11 HRs.
So what are the Phillies looking at in 2014? Disappointing performances like the past two seasons? Or will the team return to their prime that was seen in 2007-2011? Only time will tell.