February 13, 2013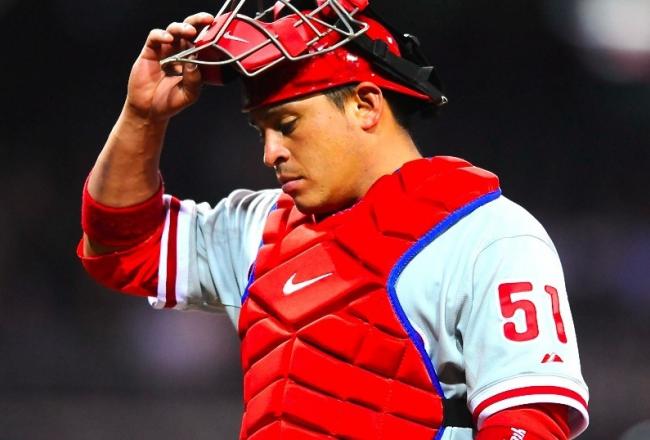 Carlos Ruiz has a lot to prove in 2013
The 34-year old catcher is in the final year of his contract. On top of that he will miss the first 25 games of the season due to a
suspension for Adderall use
(one of Major League Baseball's banned substances).
Ruiz will not only be facing the pressure of proving his worth, but also the pressure of proving that he doesn't need to break the rules to perform at a high level.
"It's something that I have to put on the side," Ruiz
said to reporters in Clearwater on Wednesday.
"I know I'm always working real hard, for this year too. So, I'm going to do my best."
Ruiz is coming off a career year in 2012, when he reached career highs in home-runs (16), RBI's (68), batting average (.325) and slugging percentage (.540) in 114 regular season games.
However, the legitimacy of Ruiz's offensive production last season has come under question since news broke of his suspension back in November.
In 2010, Ruiz's batting average had a huge increase to .302 from the .255 he hit in 2009. He hit one less home-run in 2010 (8) compared to 2009 (9), but his RBI total went up from 43 to 53.
Ruiz's numbers dropped to a .283 batting average with 6 home-runs and 40 RBI's in 2011, before his offensive breakout in 2012.
Adderall is used to help a person focus. It is usually prescribed to those who have ADHD and is legal for use in Major League Baseball, provided the player has a prescription to use it. Ruiz did not.
It can be argued that the drug helped Ruiz in at-bats just by looking at his batting average alone, but he believes that he is still capable of putting up big numbers when he comes back.
"I'm working real hard," Ruiz said." I trust myself that I can post some good numbers. At the same time baseball is baseball you have to work everyday. When you're working hard you are going to get a lot of good things."
When asked if he will seek a prescription for Adderall, Ruiz said "That's something between my doctor and me."
Ruiz was very apologetic during his time with the media and seems accepting of the consequences he must face.
"When you make a mistake, you are going to pay," Ruiz said. "So I'll pay my 25 games."
"I apologize to my teammates, my organization and my family, my fans," Ruiz said. "I will try to put everything behind and be ready for the season. "

The soonest Ruiz can return will be on April 28th for the third and final game of a road series against the New York Mets. He can't wait for the day to come.

"I can't wait to go to New York on the 28th and be in the lineup," Ruiz said. "I know that it is going to be very special for me and my family. So, I can't wait to see that day."